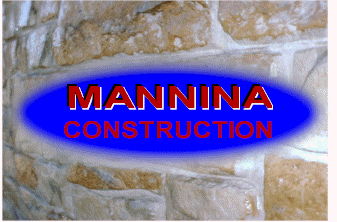 Welcome to Mannina construction's pump house story.
The pump house below is an insulated concrete structure. The outside walls are 19 inches thick, 14 inches of concrete, and 5 inches of foam. There are two concrete walls that make up the 14 inches. An 8 inch inner wall with 2 1/2 inches of foam on each side. The second wall is an outside 6 inch skin wall that is stamped decorative concrete.

We framed the pump house using this foam system.

After the foam system was poured, We then applied the outside rubber stamp form.

A model had to be built to show and explain the complex design.

A test pour was done off site. Cody helped!
Click on yellow text below to see other pages.
*MANNINA CONSTRUCTION ON FRONT COVER
*MIKE MANNINA'S UNITED STATES PATENT
*FOAM FOUNDATION IN BARRINGTON
* SEA WALL ON THE CHAIN O LAKES
*HOW THE PUMP HOUSE WAS BUILT.
For more details e-mail us at, info@mannina.com
Mannina Construction, P.O. Box 368, Antioch, IL 60002
Web designer: DJ CREATIONS