CHECK BACK SOON FOR NEW AND EXCITING JOBS ON DISPLAY.
SCROLL DOWN TO BOTTOM OF PAGE TO VISIT MANNINA CONSTRUCTIONS JOB SITES AND OTHER EXCITING INFORMATION.
Mannina Construction is also developing decorative PRECAST WALLS for entrance gates, fencing, signs, and even energy efficient house panels.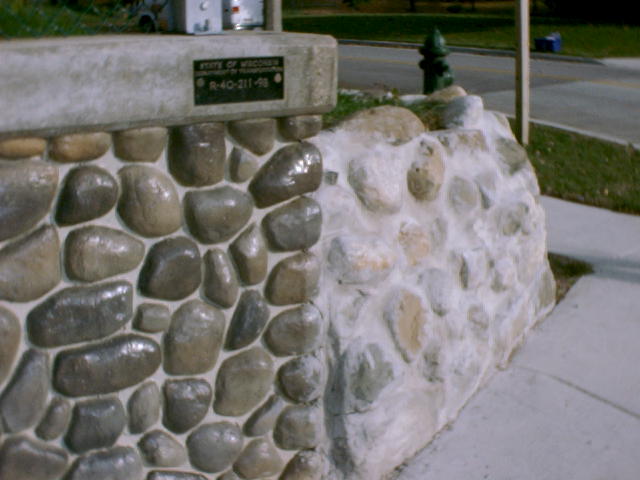 Here's a job Mannina Construction investigated. Just a good example of stamp concrete verses real stone. The one on the left is stamp concrete. The one on the right is real stone. Which would you prefer. The craftsmanship of real stone work today does not represent the quality of the past. In short, it's hard to find a good stone mason today and if you do he is very expensive and probably very old. With stamp reinforced decorative concrete, we can beat the price of real stone, look better, last longer, and be a whole lot stronger.
Click on yellow text below to see other pages.
*MANNINA CONSTRUCTION ON FRONT COVER
*MIKE MANNINA'S UNITED STATES PATENT
*FOAM FOUNDATION IN BARRINGTON
* SEA WALL ON THE CHAIN O LAKES
*HOW THE PUMP HOUSE WAS BUILT.
THE MASONIC TEMPLE IN HARVARD IL.
CUTE HOUSE SAVED WITH CONCRETE POST HOLES
For more details e-mail us at, info@mannina.com
Mannina Construction, P.O. Box 368, Antioch, IL 60002
(847) 356-6368 (630) 212-9757
Web designer: SOUND CREATIONS